Philipp Resl
about me | research | publications | blog | github | contact

recent news
Paper out - Our latest paper is out now in ProcB. Using comparative phylogenetics we studied the consequences of extreme substrate specialization in lichen-forming fungi. Get it here for free.
New Job - On January 1st 2018 I have started a PostDoc Position at the Ludwig-Maximilians University in Munich in the group of Prof. Silke Werth. I will be working on Population Genomics and Transcriptomics of lichen forming fungi.
I have started a blog.
There I will write mainly about things I discovered/learn in my struggles with computational biology. I hope also other people will find this useful.
I finished my PhD this summer. Yay!
Paper I was involved in on refugial ecosystems in central Asia is published: Get it here.
Our paper on species delimitation in Rinodina is published: Get it here.
Our Science Paper on Basidiomycete yeasts in Ascomycete Macrolichens is published: Read it here and an "in depth" article here.
about
I am currently a PostDoc at the Ludwig-Maximilians University (Munich, Germany). I finished my PhD under the supervision of Prof. Helmut Mayrhofer and Prof. Toby Spribille in summer 2017 at the University of Graz (Austria). My research is focused on a special form of mutualism in the kingdom of fungi, commonly called lichens. I combine classical lichenological work (fieldwork, ecology and microscopy) with phylogenetics, genomics and transcriptomics to disentangle phylogenetic relationships and characterize evolutionary patterns in this group of fungi.

research
Phylogenetics and Taxonomy
My phylogenetic work is centered in the Ostropomycetidae one of the two subclasses of Lecanoromycetes comprised mostly of crustose lichens. Currently my work is focused on the order Baeomycetales and even more specific on the genera Trapelia and Trapeliopsis. To support taxonomic hypotheses I combine the latest phylogenetic analyses with classical lichenological work.

Adaptive evolution and Comparative methods
I use various statistical models to analyze the evolution of characters observed in lichenized fungi. I am specifically interested in the different evolutionary consequences for highly specialized versus generalist lineages.
Comparative Genomics
In my comparative genomics work, I search in several newly sequenced fungal genomes for signs of selection and cabohydrate active enzymes to identify adaptive processes in these species.

publications
2018
Resl P, Fernandez-Mendoza F, Mayrhofer H, Spribille T. (2018): The evolution of fungal substrate specificity in a widespread group of crustose lichens. Proc. R. Soc. B 285: 20180640. http://dx.doi.org/10.1098/rspb.2018.0640
Chytrý M, Horsák M , Danihelka J, Ermakov N, German D, Hájek M, Hájková P, Kočí M, Kubešová S, Lustyk P, Nekola J, Pavelková Řičánková V, Preislerová Z, Resl P, Valachovič M (2018): A modern analogue of the Pleistocene steppe‐tundra ecosystem in southern Siberia. Boreas. https://doi.org/10.1111/bor.12338
2017
Milan Chytrý, Michal Horsák, Vít Syrovátka, Jiří Danihelka, Nikolai Ermakov, Dmitry A. German, Michal Hájek, Ondřej Hájek, Petra Hájková, Veronika Horsáková, Martin Kočí, Svatava Kubešová, Pavel Lustyk, Jeffrey C. Nekola, Zdenka Preislerová, Philipp Resl, Milan Valachovič (2017): Refugial ecosystems in central Asia as indicators of biodiversity change during the Pleistocene–Holocene transition. Ecological Indicators 77:357-367 https://doi.org/10.1016/j.ecolind.2016.12.033.
2016
Resl, P., Mayrhofer, H., Clayden, S.R., Spribille, T., Thor, G., Tønsberg, T. and Sheard, J.W. (2016): Morphological, chemical and species delimitation analyses provide new taxonomic insights into two groups of Rinodina. The Lichenologist, 48(5), pp. 469–488.
Spribille, T., Tuovinen, V., Resl, P., Vanderpool, D., Wolinski, H., Aime, M. C., Schneider, K., Stabentheiner, E., Toome-Heller, M., Thor, G., Mayrhofer, H., Johannesson, H., McCutcheon, J. P. (2016): Basidiomycete yeasts in the cortex of ascomycete macrolichens. doi:http://dx.doi.org/10.1126/science.aaf8287
Schneider, K., Resl, P. , Spribille, T. (2016): Escape from the cryptic species trap: lichen evolution on both sides of a cyanobacterial acquisition event. Molecular Ecology Accepted Manuscript. doi:10.1111/mec.13636
2015

Resl, P., Schneider, K., Westberg, M., Printzen, C., Palice, Z., Thor, G., Fryday, A., Mayrhofer, H., Spribille, T. (2015): Diagnostics for a troubled backbone: testing topological hypotheses of trapelioid lichenized fungi in a large-scale phylogeny of Ostropomycetidae (Lecanoromycetidae). Fungal Diversity (in press)
Schneider, K., Resl, P., Westberg, M., Spribille, T. (2015): A new, highly effective primer pair to exclude algae when amplifying nuclear large ribosomal subunit (LSU) DNA from lichens. Lichenologist (in press)
2014
Spribille, T., Resl, P., Ahti, T., Pérez-Ortega, S., Mayrhofer, H., Lumbsch, H.T. (2014): Molecular systematics of the wood-inhabiting, lichen-forming genus Xylographa (Baeomycetales, Ostropomycetidae) with eight new species. Symbolae Botanicae Upsalienses 37(1): 1-87.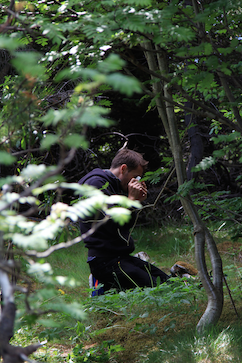 Contact
Philipp Resl
Ludwig-Maximilians-University Munich
Faculty of Biology, Department I
Systematic Botany and Mycology
Menzinger Straße 67
80638 München
Germany

E-Mail:
philipp.resl {at} bio.lmu.de
Find me on
© 2018 Philipp Resl - This is a free website template by Rick Waalders